Andrea Jamieson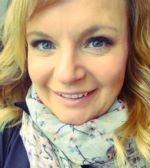 National Improvement Advisor, The 6 Essential Actions for Improving Unscheduled Care National Programme, The Scottish Government
Andrea joined the 6EA programme as a national improvement advisor in June 2015. Andrea has a healthcare background, joining the Scottish Government after ten years Consulting, developing and implementing flow solutions for organisations challenged with poor unscheduled care performance. This followed a 5 year stint in NHS Fife where she led a project implementing an approach to discharge designed to improve the quality and timeliness of care, reducing delay and length of stay.
Andrea has a Masters degree in the use of in the 'Theory of Constraints in Healthcare Management'.
In her Consulting role,  Andrea oversaw a team of consultants (often over several sites), and focused on analysing performance to identify the cause and effect relationships and provided strategy and direction for the senior management and the team she managed. This meant helping them to focus on the few levers for improvement of the underlying systemic issues causing poor performance to help them deliver timely access to care and improve the operational management of patient flow. This 'transformational change' approach delivered significant results.
She was delighted to be able to take her experience and knowledge and use it to improve healthcare organisations in Scotland.