Erik Jakobsen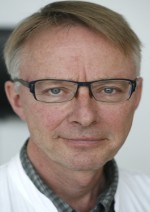 Chief Physician, Odense University Hospital, Denmark; Associated Clinical Professor, University of Southern Denmark; Denmark
Erik Jakobsen is Chief Physician at the Department for Thoracic Surgery, Odense University Hospital and Associated Clinical Professor of the University of Southern Denmark.
Dr. Jakobsen chairs the Danish Lung Cancer Registry – a national quality registry established in 2000. The registry is operated by one of the 24 Danish Multidisciplinary Cancer Groups: The Danish Lung Cancer Group (DLCG). Dr. Jakobsen has made a massive contribution to the planning and execution of quality improvement activities in relation to lung cancer in Denmark and has been appointed to several working groups under the Danish Health Authority.
Dr. Jakobsen has authored numerous papers on quality improvement in lung cancer care and has been teaching and training doctors and specialists at Odense University Hospital, University of Southern Denmark.