Annesofie Lunde Jensen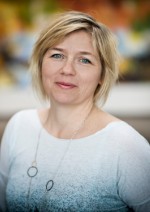 Postdoc, Medical Anthropologist and Clinical Nurse Specialist, Aarhus University Hospital, Steno Diabetes Centre Aarhus; Denmark
Annesofie L. Jensen is a postdoc, medical anthropologist and Clinical Nurse Specialist at Steno Diabetes Centre Aarhus.
Her research has focused on care for persons with endocrine conditions such as persons with osteoporosis, thyroid-associated ophthalmopathy, chronic pulmonary disease and type 1 diabetes.
She has especially investigated in the areas of user involvement, decision-making, person-centered care, patients' education and changes in body image. She uses both qualitative and qualitative methods in the studies. She is an experienced educator at Aarhus University.