Who is this information relevant for
Please note, this page is intended for speakers presenting on the main programme of the International Forum. Information for poster presenters can be found here.
Upcoming events for speakers
Speaker webinar recording
How to shape an exciting and engaging session
Many people worry about interactivity "taking up valuable speaking time" or that it does not add to the purpose of the session. We don't want this either, so Zoe has shared practical tools, hints and tips to effectively harness the power of interaction for the purposes of enhancing the learning and reinforcing your key messages.
You will need to install the webex addon to view the recording. It will open in a new window (it may take up to 10 seconds to start playing).
You can access the slides here. 
---
Presentation skills workshop
Tuesday 28 April | From 13:30 | Bella Centre, Copenhagen
All speakers will also have access to an exclusive presentation skills workshop on Tuesday 28 April at 13:30 with Vania Deonizo and Selina Stephen. This will be exclusive to all speakers at the event – add it to your diary!
Shaping your session...
Preparing your presentation
Your presentation and supporting material must be made in English.
You must begin your presentation with a slide declaring any conflicts of interest (see the above guidelines for further information).
This year we are creating a programme that maximises opportunities for discussion, and as such we would like to ask every presenter to include at least one interactive element in their presentation.
Please view here our presentation top tips and guidelines!
Here are some useful resources to help you design the session:
---
Handouts
Please email your presentation to Mark Lenner (mlenner@bmj.com) by Friday 17 April, so we can upload it to our conference app ahead of the event.
Delegates value having the slides in advance to make notes and follow the presentations on the day. You may wish to produce a 'pre-conference' version of the slides if there is material you do not wish to distribute in advance. We will not be producing paper handouts of any presentations for the day.
Your details...
Biography and photo
If you have not already sent us a photo and your biography for the International Forum Speakers page or would like to update/change your photo or biography please email them to mlenner@bmj.com. Photos should be high resolution in .jpg or .gif format.
---
Registration
You are entitled to attend the two main days of the conference (Wednesday 29 and Thursday 30 April) free of charge and to attend sessions whilst you are not presenting.
You will also have access to the speakers' presentation workshop on the afternoon of Tuesday 28 April.
---
Accommodation
We are pleased to recommend a number of nearby hotels. These can be found on our Accommodation page.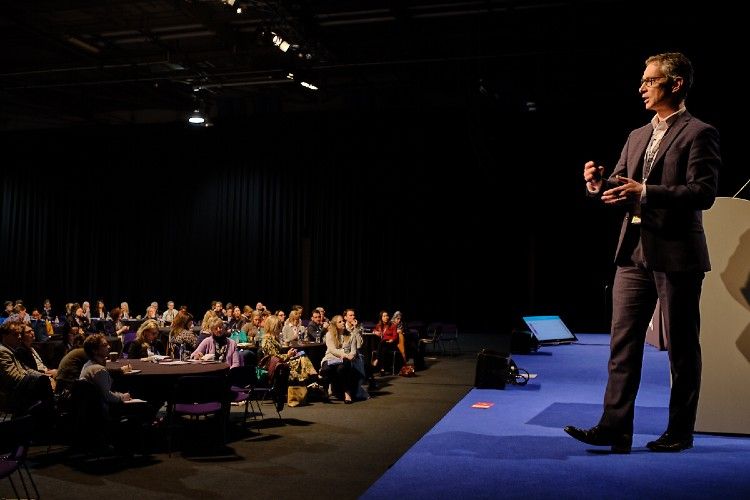 Set up on the day...
Please ensure that you bring your presentation to the venue with you on removable media e.g. a USB stick, even if you have emailed it in advance as a handout.
Arrival instructions
When you arrive at the venue, collect your speaker badge from the enquiries desk.
For speakers on Tuesday, please bring your presentation directly to your session room.
For speakers presenting on Wednesday and Thursday, proceed to speaker check-in, located in Room 21 on Level 1 where our AV technician will upload your presentation and check any audio or video content.
For speakers presenting at the Science Symposium or on the Experience days, please refer to your individual instructions.
All speakers should arrive in their session room at least 30 mins before your session begins and a member of our green shirt team will assist you with setting up for the session. If your session is split into multiple presentations you are still required to arrive 30 minutes prior to the start time and will not be able to access the room once the session has started.
---
AV Equipment
Each meeting room will be provided with a laptop, projector, screen, PA system and a set number of fixed, clip-on and roving microphones as standard. Cabaret style rooms will also contain flipcharts.
A remote control for operating the laptop will be available, which will also have a laser pointer.
Lavaliere (or clip‐on) microphones may be available for speakers. These require a small beltpack is clipped on to a waistband/belt or inserted into a pocket. Please wear suitable clothing to accommodate this.
Please note no other equipment is supplied on the day.
If you are using your own laptop, please inform us by email as the venue will need to make arrangements for your laptop to be used in the session room.
Please note, your presentation may be filmed and broadcast on our Livestream channel, and the recording hosted on our website. If you do not want your presentation to be filmed/recorded please contact Mark Lenner (mlenner@bmj.com).
Contact on the day
If you have not done so already please provide us with a contact number for us to reach you on-site by filling in this form. This will be used only should the BMJ events team need to contact you on-site and will not be distributed or used at any other time.
Your contact on the day will be Kyle Rolph (krolph@bmj.com).