What's included?
You can learn through live lectures and workshops, on demand content, hundreds of projects displayed as posters and via establishing connections with other colleagues or organisations with common interests or insightful solutions.
35+ live sessions, ranging from short lectures to 3 hour virtual workshops. These sessions will provide you with access to expert content, dedicated Q&A time, polls, activities and more.
10+ hours of on-demand content, produced by our expert speakers. These videos will cover a range of relevant topics and can be viewed at a time that suits you
30+ short videos, covering key improvement projects from across the globe. See how our improvement community is emerging stronger than ever before from the pandemic.
Poster displays, and the opportunity to connect with presenters about their work
Networking, huddles and more! While we won't be meeting face to face in Copenhagen, our virtual programme will have plenty of opportunities to meet up with colleagues and make new connections.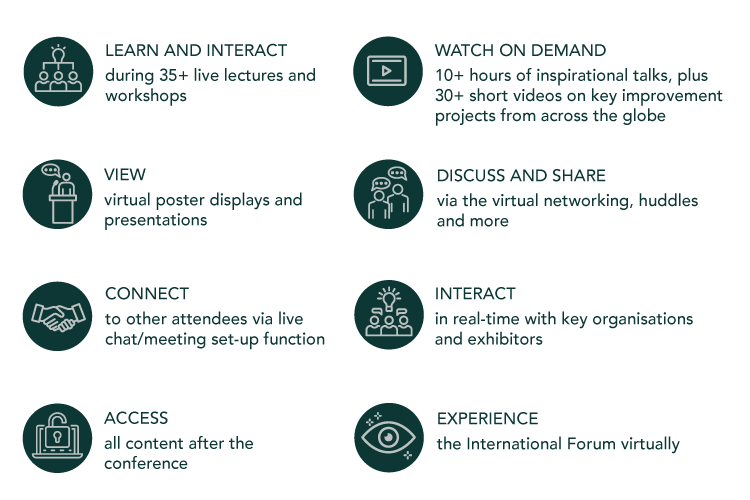 Making the most out of your virtual experience and the programme
The virtual format of the conference presents an exciting opportunity to experience the live International Forum and interact with colleagues from around the world. 
While the conference is over five days, it is designed to suit busy schedules and urgent priorities. You can join in when your schedule permits. You can also dip in and out of live sessions and catch up on what you've missed by watching the session recordings in your own time. 
The platform will remain accessible for six months after the conference, including all recorded live sessions and on demand content.
Here is how to make the best out of your experience. Remember, this will be an interactive conference experience and your participation in discussions and activities is encouraged.
Drop-in and out of sessions – If you are short of time or something unexpected comes up, don't worry, you will be able to watch recordings of all live sessions from the day after they take place.
Choose what you would like to do on the day – If you don't feel you could participate in an upcoming live session, then why not explore our on demand content instead or use the time to start connecting with colleagues to nurture these important relationships and collaborations?
Access a large library of on demand content – Watch in your own time 10+ hours of inspirational talks, 30+ short videos on key improvement projects from across the globe plus all live sessions from the previous days.
Have live conversations – You can ask questions and converse with others during all live sessions via our chat box. In addition, you can take part in our networking activities using your camera and audio just as in a live event (more networking activities will be added to the programme soon).
Find solutions or expert support with your projects or challenges – Our exhibitors will be available to talk to you in real time about how they can help you to plan for the future in our daily Live Exhibition sessions. A number of these are available each day to allow you to drop in at a time that suits you best.
Make new connections with people who share your passions – Our recommended contacts tool is a great way to get connected with like-minded individuals who share the same interests. Fill out our quick matchmaking tool, and receive a list of delegates with whom you have something in common. Get in touch via chat, and arrange a time to connect!
Stumble upon some great ideas – Every year we host hundreds of displays demonstrating a wide range of improvement and safety projects implemented in local, national or global settings. Browse through those for ideas and strategies that you can replicate in your own organisations. And don't forget to connect to the authors so you can learn even more or start collaborating.
Types of sessions at the virtual Copenhagen 2020
At Copenhagen 2020 you can discover how your colleagues from around the world are handling current and longer-term healthcare challenges. 
The programme includes live lectures and interactive workshops (to be made as recordings the following day), on demand exclusive lectures and presentations available to watch on demand from the time shown on the programme schedule, and dedicated networking sessions.  
Additionally, we will offer a number of poster viewing sessions a day to chat with poster authors and find ideas to implement in your own organisation. We will also offer a number of slots to engage in live video meetings with our exhibitors or just browse through the resources on improving health and care that they make available.
Session styles
Live lecture – lecture style session aiming to increase learning and share knowledge, experience, outcomes, new ideas or new way of thinking. Chat box will be available for delegates to view and ask questions.
Live workshop – an interactive session with discussions and activities in separate breakout rooms for all attendees to get involved in.
On demand content – includes exclusive lectures and presentations available to watch on demand from the time shown on the programme schedule. These can be replayed multiple times at any time until the conference content is available.
Networking – dedicated sessions for facilitated networking activities.
Our 2020 conference theme
Our conference theme for Virtual Copenhagen 2020 is Breaking Down Barriers. In these uncertain and challenging times, it has never been so important to consider how healthcare on a global scale can emerge from a crisis stronger and more connected than ever before.
Our brand new virtual event will seek to explore how we can unite those across our health and care systems to reflect, recover and reassess priorities in light of the changes brought by COVID-19. We will consider how we can move from hierarchical structures to open discussions, how we engage patients and service users on an equal footing, and how we can support each other to move forwards following a year unlike any other.
Keynote speakers
We are delighted to welcome the below keynote speakers to our virtual event: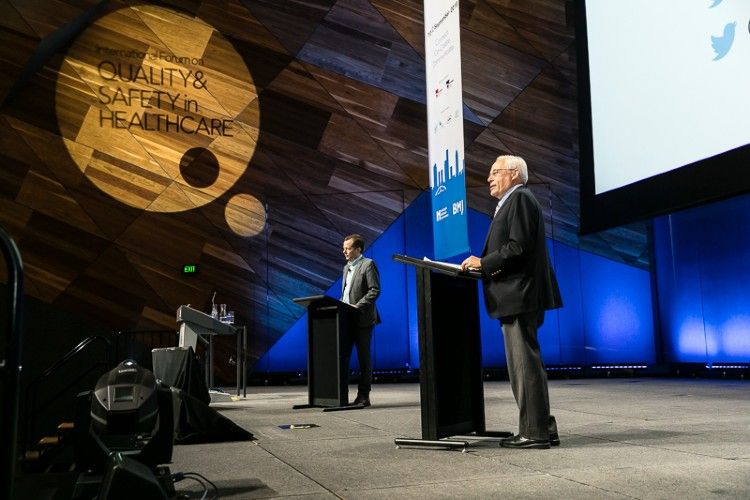 Key topics to be discussed
Breaking down barriers in light of COVID-19
Co-production and beyond: Patients leading the way
Leadership for continuous improvement – what it really takes…
Restoring Joy in Work, Prioritising Wellbeing and Preventing Burnout during and post COVID-19
Building a culture of safety
Debate: The future of Quality Improvement post pandemic
Plus many more!