Apollo Basenero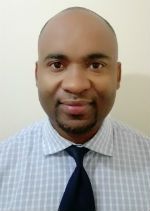 Chief Medical Officer, Namibia Ministry of Health and Social Services
Dr. Apollo Basenero, MBChB, has worked as a medical doctor in Uganda, Eritrea and Namibia. He is currently the Chief Medical Officer, Quality Management (QM) Program in the Ministry of Health and Social Services (MoHSS) Namibia. He is a Fellow, International Society for Quality in Health Care (ISQua) and Fellow, Arthur Ashe Endowment for the Defeat of AIDS. His achievements include leading the teams that developed the following; Generic MoHSS National QM training curricula for healthcare workers, Consumer Involvement in QM curriculum, QM Coaches curriculum, QM Trainer of Trainers Program and QM capacity building framework for the MoHSS. He was also part of the team that developed Namibian guidelines on; Infection Prevention and Control, Operating Room, Sterile Services and Phlebotomy.
He is one of the Quality Improvement (QI) leaders in an ongoing QI Collaborative in Namibia that is focused on improving retention in HIV Care.
He has participated in various research projects, authored and co-authored a number of abstracts, serves on various QM committees and has won a few professional awards.
Dr. Basenero is very passionate about implementation of continuous quality improvement in healthcare.