Steve Swensen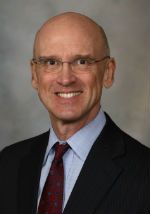 Medical Director, Mayo Clinic; USA
Dr. Stephen Swensen is the Medical Director for Leadership and Organization Development and a Professor in the Mayo Clinic College of Medicine.
From 2005-2012 he served as the Director for Quality and Associate Dean for Value. Under his leadership, the Quality Academy and the Value Creation System were established. More than 35,000 colleagues have been certified as Bronze, Silver or Gold Quality Fellows. Dr. Swensen has been conferred the Diamond Quality Fellow Lifetime Achievement Award.
Dr. Swensen chaired the Department of Radiology from 1998-2006. His leadership team used Lean-Sigma and Baldrige methods to improve the value of care for patients provided by 1,200 staff who performed more than one million exams annually. During his tenure the department was recognized as the No. 1 radiology practice in the USA (Medical Imaging) and the most Patient-Centered (Diagnostic Imaging).
Dr. Swensen has served as a Director on three Boards and as a member of the Mayo Clinic Management Team and Clinical Practice Committee.
He holds a Masters of Medical Management from Carnegie Mellon University's Heinz School. Dr. Swensen is a trained Executive Coach. He received his MD from the University of Wisconsin. His residency training was at the Mayo Clinic and his Thoracic Radiology Fellowship at Harvard Medical School, Brigham and Women's Hospital.
Dr. Swensen is a Senior Fellow of the Institute for Healthcare Improvement. He is past President of two international societies, the Fleischner Society and the Society of Thoracic Radiology. He teaches Value Creation at the School of Public Health in the University of Minnesota. He served on the U.S. Quality Council. He chaired the American College of Radiology's Quality Metrics Committee and led the RSNA's Continuous Quality Improvement Initiative. He founded the Big Sky Quality Roundtable, and the Keystone Quality Officer Group, and co-founded the Sun Valley Quality Assembly.
He has been Principal Investigator of three NIH grants related to lung cancer screening with CT and diffuse infiltrative lung disease. He has authored two books and more than 140 peer-reviewed articles.
During the two past decades, Dr. Swensen has started three businesses. He has been married for 36 years and has two children. This year he completed his 37th marathon.