Tan Sri Dato' Dr Abu Bakar Suleiman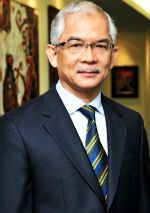 Chairman, IHH Healthcare PLC and a previous Director General of Health; Malaysia 
Dr Abu Bakar Suleiman attended Malay College, Kuala Kangsar, St John's Institution, Kuala Lumpur and Geelong Grammar School in Victoria, Australia and obtained his MBBS from Monash University, Australia. He obtained the Masters of Medicine (Internal Medicine) from the University of Singapore.
He became fellow of the Royal Australasian College of Physicians and did his postgraduate training in Nephrology at Georgetown, University Hospital, Washington DC (USA) and Prince Henry's Hospital in Melbourne (1975-1976). He attended the Advanced Management Program at Harvard Business School in 1991.
He started the Department of Nephrology and developed the Nephrology and Dialysis services at Hospital Kuala Lumpur and extended this to other hospitals in the country. He developed the network of dialysis centers in Malaysia, in the government hospitals as well as in the community, with the support of donors and non-governmental organization. He also developed the Renal Transplantation services at Hospital Kuala Lumpur.
He became Director General of Health Malaysia from 1991 to 2001, and was appointed President of International Medical University in 2001.