The ePosters at the International Forum
Our ePoster displays are a valuable opportunity to tell colleagues and experts from across the world about your improvement and safety projects, and to help others learn from your strategies and experience.
Every year we have hundreds of displays demonstrating a wide range of improvement and safety projects implemented in local, national or global settings. These are available onsite and online for all attendees to view and learn from.
We encourage you to share your achievements and contribute with your work and ideas to improving healthcare worldwide.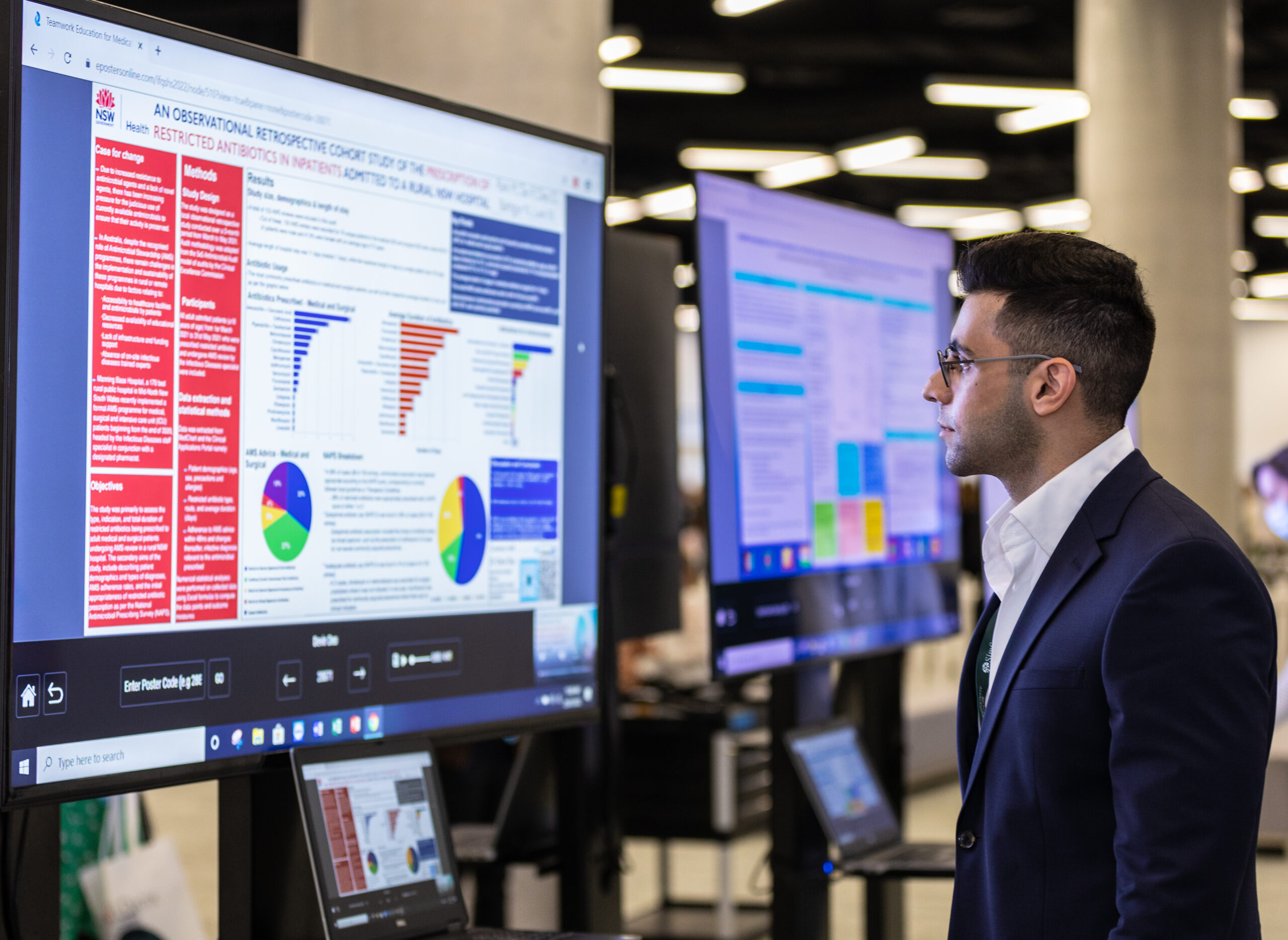 The many benefits of securing an ePoster display
Attending in person and displaying an ePoster
As an in-person attendee, you will enjoy many benefits of displaying your improvement project.
Your ePoster will be displayed on digital ePoster screens by topic during all three conference days (Monday 30 October – Wednesday 1 November)
Your ePoster will be showcased on the International Forum app during and up to six months after the International Forum
Receive an ePoster certificate showcasing your in-person participation during the International Forum
You will have the opportunity to orally present your ePoster to peers on our ePoster stage on either Tuesday 31 October or Wednesday 1 November morning. These presentations will be hosted by our ePoster champion. You will also receive an additional oral presentation certificate. Sign-ups will be available in advance of the conference and also taken on-site during the International Forum if there is capacity left.
NEW ePoster presenter meet up: Why not join us to find out more about the activities taking place on the ePoster Stages, and meet other presenters on Monday during the evening reception?
NEW ePoster Showcase sessions: We will select a number of the oral ePoster presentations from Tuesday and Wednesdays ePoster Stage and invite the authors to present on the main plenary stage on Wednesday afternoon, with the opportunity for the audience to vote for the winning ePoster project. Please note that these will be recorded and shared on the virtual platform after the conference. Selected ePoster presentations will also be invited to attend the 2024 conference with a complimentary place to share impacts from their project following the Melbourne event.
Attending online and displaying an ePoster
You will have your ePoster showcased on the virtual ePoster platform and International Forum app during and up to six months after the International Forum
You will receive an ePoster certificate showcasing your virtual participation during the virtual International Forum
NEW opportunity to present your ePoster to peers by submitting a 5-minute recorded presentation. This presentation will be displayed on the virtual platform on either Tuesday or Wednesday of the conference. Live Q&A chat with online attendees about your project will be also be available.
How will ePosters be viewed?
ePoster displays
All presenters will be invited to create an ePoster which will be made available on our online ePoster platform.
Attendees in Melbourne will be able to browse all posters on a number of large digital ePoster screens in the venue.
Attendees will also be able to access the posters via our ePoster platform online on any device during and up to six months after the conference.
Oral presentations
Attendees will be able to hear you discuss your poster project on our ePoster Stage in the Exhibition Hall. The ePoster sessions will be organised by topic, hosted by our ePoster champions and will take place on either Tuesday 31 October or the morning of Wednesday 1 November.
If you are attending the conference online only and displaying an ePoster, other online attendees could watch you present your project during a 5-minute recorded presentation. Presentations are optional. They will be shown on the virtual platform on either Tuesday 31 October or Wednesday 1 November and will be accompanied be a live Q&A chat with online attendees.
Further information, including how to sign up and present, will be sent to all registered poster authors in due course.
You can read our Poster FAQs here.
Why should you display an ePoster?
Securing an ePoster display offers you an opportunity to showcase your ideas, innovative approaches and strategies.
Showcase your achievements to key international opinion leaders and colleagues from around the world

Demonstrate ideas that work and can be adapted by others

Start conversations and collaborations with teams worldwide

Communicate your organisation's work and share successes

Build your profile by displaying your work at a prestigious international event

Influence outcomes on a global scale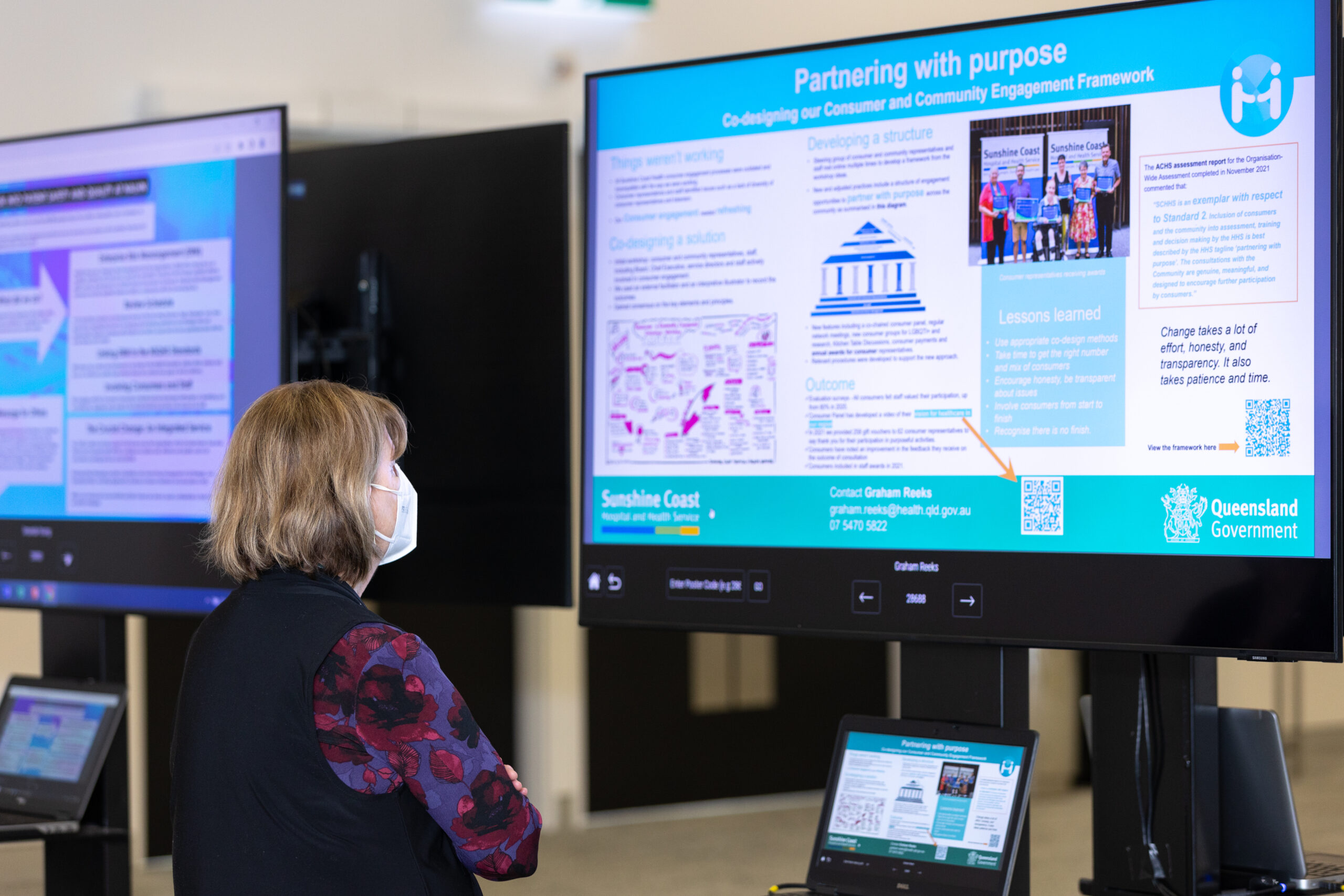 The ePoster topics
Your ePoster will be displayed by the topic or theme you select during the abstract submission process. We have eight topics that you can submit to:
Diversity, equity and inclusion (DEI)
Submissions to this topic will look at the definitions of equity, diversity, and inclusion principles and the steps that need to be taken to unite inclusion and quality improvement practices at all levels. How can we achieve health equity for all? How do we learn to work more effectively with rural and indigenous communities to improve value-based care and outcomes? Abstracts will explore how to ensure EDI is implemented across all areas of healthcare and how this benefits employees, patients, families, and key stakeholders within the quality improvement ecosystem.
Workforce, wellbeing and engaging staff across the organisation and culture
Evidence suggests staff health and wellbeing initiatives delivered within organisations can improve health, productivity, and decrease sickness absences, yet the adoption of these services remains a challenge. Abstracts on this topic will explore the strategies, a needs-led approach to implement and initiate wellbeing programmes; and how to build organisational cultures that support staff, health and wellbeing.
Patient safety and co-creating care with service users
The ability to live well and maintain relationships is powered by a partnership of equals between people and healthcare professionals which recognises that patients, communities, and peer networks need to work alongside healthcare professionals, the community and the voluntary sector to support patient safety. Abstracts should consider how to improve the efficiency of patient safety and care by creating new models, processes and improvements that are focussed on what matters most to the patient.
Sustainability, climate change and environmental impact on health
Abstracts on this topic will explore how we handle different kinds of disturbances to the system, reconciliation between the health system and the community; and what support can be provided for improvement. We will discuss how we can provide better learnings and growth in terms of understanding from the community and consumer perspectives, and patients around. The bigger question being, how do health systems cope with climate change?
Emerging technologies and digital health
Improvement and transformation are happening at an extraordinary scale and pace. How can we harness the opportunity that technology brings to deliver better health? How do we create more agile systems? How can we make the best use of the data we can now access? Can we combine rapid evidence-generation with clinician expertise? How can we evaluate digital health innovations for health and safety? Abstracts submitted to this topic will explore these areas in more detail and provide evidence-based recommendations to support the outcomes.
Flow and safety
How do we get healthcare systems to work smoothly by delivering safe care to those that need it time after time? What are the workforce implications of a fast-paced healthcare system and what are the changes in models of care? And how do we address ongoing waves of covid on quality and safety in the healthcare system? Abstracts submitted to this topic will explore the subject of flow and safety in more detail and provide examples of projects where systems are in place.
Innovation in health
The quality improvement movement relies on innovation for change. Abstracts for this stream should look at innovative approaches to improving health outcomes on a national scale, as well as how new approaches can reach the most vulnerable people in communities. Innovations don't have to be high-tech, they can be social, digital, process or device innovations – but what does this look like now compared to the future?
People powered change and process
People powered change and process in healthcare seeks to empower individuals to take control of their own health and wellness. It encourages people to become active participants in their own healthcare decisions, rather than relying solely on medical professionals. This includes advocating for better access to healthcare, advocating for better quality of care, and advocating for better patient rights. It also seeks to create a more equitable healthcare system, where everyone has access to the same quality of care regardless of their economic or social status. Abstracts in this stream will provide practical examples of how these issues are being resolved and demonstrate how this is creating positive change in communities, particularly:
access to services

quality and cost of care i.e., lack of evidence-based approaches and the provision of sub-standard care

workforce shortages and

the ageing population
Notifying you
All ePoster submissions' results and next steps will be sent out in July 2023.
Please note that the email address that you supply on the Submitter Details page when submitting your abstracts will be the email address used to correspond the results of your submission. If you change email addresses during this time, please let us know so we can update our system.