Shahrzad Kiavash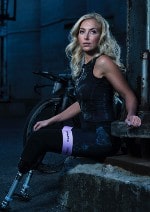 Founder shahrzad.nu
Shahrzad was 28 years old, healthy, and happy when she suddenly fell ill with a very unusual form of sepsis. The doctors gave her minimal chances of survival. She miraculously survived but at the expense of amputation of both her lower legs.
With this new, harsh reality, she could have chosen to give up. Instead, she chose to gather her superpowers and build a driving force so strong that she not only managed to fight her way back to life but also beyond.
In 2015, with no previous experience, she completed an Olympic triathlon; 1500 m swimming, 40 km cycling, and 10 km running with prostheses. She could have contented herself there, but she would continue with new, higher goals.