Axel Ros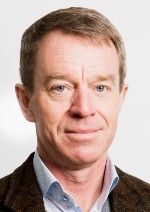 Chief Medical Officer, Region Jönköping County; Sweden
Axel Ros, MD, PhD is a specialist in General Surgery. He was Head of Department of Surgery at the County Hospital Ryhov in Jönköping, Sweden 2004- 2012. His PhD-thesis 2005 was on techniques in cholecystectomy.
Since 2012 he has been the Chief Medical Officer in Region Jönköping County. He also has a part time position at Futurum, the Research and Education center in Region Jönköping County, and is a lecturer at Jönköping Academy at The Jönköping School of Health and Welfare at the Jönköping University, with ongoing research and education in patient safety.
Axel Ros has had an interest in Patient Safety for many years, and is a member of the Resilient HeathCare Net. He also has a position in the Swedish national patient safety committee in the national system for knowledge management of health care in Sweden.