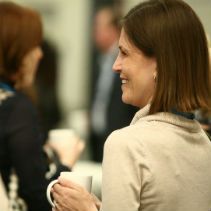 We come back to the Forum because we get very good learning on quality and safety, and patient care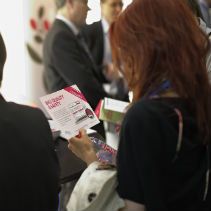 ...It is like an energy injection... reminding me again why I do this work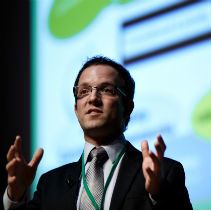 This is the best event to learn and be inspired
Watch recorded sessions from our previous events
We live stream a number of sessions from the International Forum. All streamed sessions remain available to watch on demand at any time on Livestream. A fuller archive is available on the International Forum YouTube channel.
Sydney 2022
Our programme theme in Sydney was New horizons: Quality improvement shaping the future.
Supported by over 70 speakers and leaders in their field, we focused on a number of key discussion areas including what true co-production with our consumers looks like and how can we use quality improvement approaches to reduce cost and improve efficiency without compromising patient care.
You can find the recordings of all keynote sessions in our Sydney 2022 YouTube playlist.
Gothenburg 2022
After two long years of connecting remotely, the International Forum returned to Gothenburg, Sweden for a long awaited reunion of international health and care improvers. Reconnected under the theme Creating Tomorrow Today, we focused on in-person collaboration towards more robust health and care systems and on discussing the small and big steps we can all take towards change.
You can listen to the podcasts produced in connection to the conference and watch recordings from the keynotes, and other videos in our Gothenburg YouTube playlist.
Europe 2021 and Australasia 2021 (virtual)
The International Forum took place virtually across three days in June 2021 and three days in September 2021. Themed Reconnect and Rebuild, the programmes explored subjects including the wellbeing of health and care staff, equity, patient partnerships and the future of quality improvement in this new reality.
You can now listen to a number of podcasts available on Soundcloud from the Europe 2021 conference.
Take a look at our hub of resources for selected highlights from the International Forums.
Copenhagen 2020 (virtual)
In November 2020 the first-ever fully virtual International Forum took place. Themed Breaking Down Barriers, virtual Copenhagen 2020 focused on uniting those across health and care systems to reflect, recover and reassess priorities in light of the changes brought by covid-19. This involves moving from hierarchical structures to open discussions, finding ways to engage patients and service users on an equal footing, and supporting each other to move forwards following a year unlike any other.
You can now listen to a number of podcasts available on Soundcloud and read the blogs from the conference.
Taipei 2019
In September 2019 the International Forum travelled for the first time to Taipei. We connected over 1,300 healthcare practitioners and leaders from 35 countries, over an inspiring three days we had over 40 sessions from 80+ speakers, sharing their successes, goals, ambitions and demonstrating how you can make a lasting change to your own practice.
Glasgow 2019
In March 2019, over 3,400 healthcare improvers gathered in Glasgow to connect and to celebrate their achievements and their vision for improving healthcare across the world. Themed People Make Change, the conference focused on learning how to involve, inspire and innovate across borders and organisations. We also focused on understanding how to work together and trust each other to achieve large scale change.
You can now listen to the podcasts from Glasgow and read the blogs from the conference.
Melbourne 2018
In September 2018 the International Forum traveled for the first time to Melbourne, Australia. We connected over 1,500 healthcare practitioners and leaders from over 35 countries, united by the vision to aim high with our goals for quality improvement, to act together across professions and with service users, and to achieve real success in improving care worldwide.
Amsterdam 2018
Themed Reclaiming the Quality in Healthcare, the Amsterdam 2018 programme explored how we can reclaim the quality in healthcare by making the best use of available resources, promoting innovation and working together to provide exceptional patient care. We also focused on how we can use big data to spot trends, avoid adverse events and improve quality of care, and how leaders can shape an organisation's quality improvement journey and increase the chances of success.
Kuala Lumpur 2017
In August 2017 the International Forum traveled to Kuala Lumpur, Malaysia. We connected 1,000 healthcare practitioners and leaders from over 35 countries, united by the vision to aim high with our goals for quality improvement, to act together across professions and with service users, and to achieve real success in improving care worldwide.
London 2017
In London we focused on how the power of collaboration can inspire all parties, including patients, families, new healthcare professionals and improvement leaders to deliver top quality, person-centred care in a sustainable framework. Themed Igniting Collective Excellence, this year's programme also discussed preventing burnout among physicians in order to ensure patient safety, empowering both healthcare professionals and patients for achieving better outcomes and collaboration within healthcare professional teams and as part of a patient-professional partnerships.
Singapore 2016
In September 2016 the International Forum welcomed in Singapore 1,250 of your healthcare colleagues from over 35 countries. We focused on finding inspiration and developing new skills to engage, energise and evolve in our mission to improve healthcare for communities across the world. Over 3 dynamic days we discussed solutions for the challenges we are facing and learned from the rich experience of healthcare teams across the world.
Gothenburg 2016
In April 2016 we placed a greater focus on the patient and the personal story, with patient speakers and representatives continuing to challenge our thinking to keep patients at the core of our mission. We focused on how to think and act as leaders, how to empower all staff to understand and get involved in quality, to use data to predict and plan, to be inventive in our solutions and frugal in our innovations, and to share knowledge about our mistakes and achievements.
London 2015
In 2015 we actively searched for opportunities to empower patients to manage their own care and make decisions that contribute to improving their health. We were again reminded of the power of the global healthcare community to inspire new and experienced professionals alike to work with patients and their families, to be healthcare leaders and to drive change. We explored innovations from non-healthcare industries and talked about abandoning myths and silos, and putting patients, families, communities and healthcare providers at the core of policy development.