Thank you to everyone who has participated and shared their work.
Only applications submitted online on the poster abstract template will be sent for review.
Why submit
Let the work you do inspire! The poster displays are hugely popular as they are a valuable opportunity to tell 3,000 colleagues and experts from over 80 countries, who attend the International Forum every year, about your improvement projects and to help others learn from your strategies and experiences. Every year we have hundreds of displays demonstrating a wide range of improvement and safety projects implemented in local, national or global settings.
Watch our video to hear delegates share their thoughts about the value of poster presentations at the International Forum.
Benefits of displaying a poster
By securing a poster display, you will be given the opportunity to:
Get published in the International Forum Conference Proceedings – read more below
Present your poster during our daily poster sessions
Showcase your achievements to colleagues and key international opinion leaders attending the International Forum
Demonstrate ideas that work and can be adapted by others
Start conversations and build networks for future collaborations with teams worldwide
Communicate your organisation's work and build your profile
Influence outcomes on a global scale.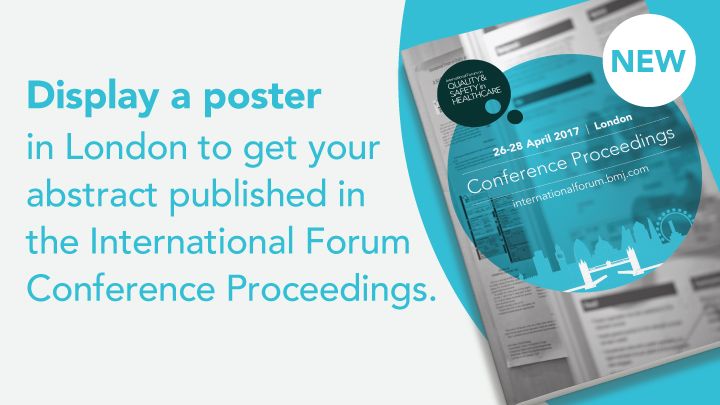 Poster topics
Your poster will be displayed by the topic or theme you select during the abstract submission process. We have seven topics that you can submit to:
Safety
Quality, Cost, Value
Person and Family Centred Care
Population and Public Health
Building Capability and Leadership
Improvement Science and Research – read more below
Work in Progress – read more below
Notifying you of the results of your submission
You will be notified of the outcome of your submission by email by early December 2016. Please note the email address that you supply in the Submitter Details page will be the email address used to correspond the results of your submission. If you change email addresses during this time, please let us know so we can update the system.
We encourage you to take time to read our Posters FAQs .
The Conference Proceedings
You will have the opportunity to opt in to publish your abstract in the Forum Conference Proceedings.
The Conference Proceedings will be a collection of the abstracts which will be displayed as posters in London 2017. In order to feature in the Conference Proceedings, all authors with accepted abstracts must agree to the inclusion of their abstract in the Conference Proceedings and must register to display their poster during the conference.
Distribution of the the Conference Proceedings:
Email PDF to all attendees of the International Forum.
Publish PDF on the International Forum website and communicate via social media once the conference is finished.
Include PDF in marketing emails and other marketing communications as required to promote future Forums.
The Work in Progress poster topic
Our new Work in Progress poster topic received high level of interest at this April's International Forum in Gothenburg.
If you have any improvement work in progress, you can now showcase the preliminary results of your project at the International Forum by submitting to the topic Work in Progress. In this poster theme, you can present your initial assessment of the problem, the methodology and design of the project and the current stage the work is at. You can present your anticipated outcomes, your preliminary findings, and the challenges or obstacles you have encountered to date. Your submission will still be peer reviewed, but acknowledged for the stage of completion you are currently at. During the International Forum we will hold specific discussion groups and workshops aimed at people who are at a preliminary stage or in the middle of undertaking an improvement project – this is the perfect opportunity to seek guidance, and inspiration from your peers.
The Improvement Science and Research poster topic
If your abstract presents the application of scientific methods for healthcare improvement, please submit it to the topic Improvement Science and Research. Abstracts submitted to this topic would be focused on results of studies that apply innovation, testing, or implementation to improve health or healthcare at a local, regional, or national scale. We are interested in hearing about studies or reports that use evaluation designs appropriate for quality improvement – including analytic, time-series, statistical process control, qualitative, and mixed-method studies.
Those working on, or with an interest in the areas of improvement science and research, may also be interested to attend the International Improvement Science and Research Symposium, taking place on the first day of the International Forum in London. See the programme here.