Call for Posters is now closed
The posters at the International Forum
Our poster displays are a valuable opportunity to tell colleagues and experts from across the world about your improvement and safety projects, and to help others learn from your strategies and experience.
Every year we have hundreds of displays demonstrating a wide range of improvement and safety projects implemented in local, national or global settings. These are available onsite and online for all attendees to view and learn from.
We encourage you to share your achievements and contribute with your work and ideas to improving healthcare worldwide.
Why should you display a poster?
Securing a poster display offers you an opportunity to showcase your ideas, innovative approaches and strategies.
Showcase your achievements to key international opinion leaders and colleagues from around the world
Demonstrate ideas that work and can be adapted by others
Start conversations and collaborations with teams worldwide
Communicate your organisation's work and share successes
Build your profile by displaying your work at a prestigious international event
Influence outcomes on a global scale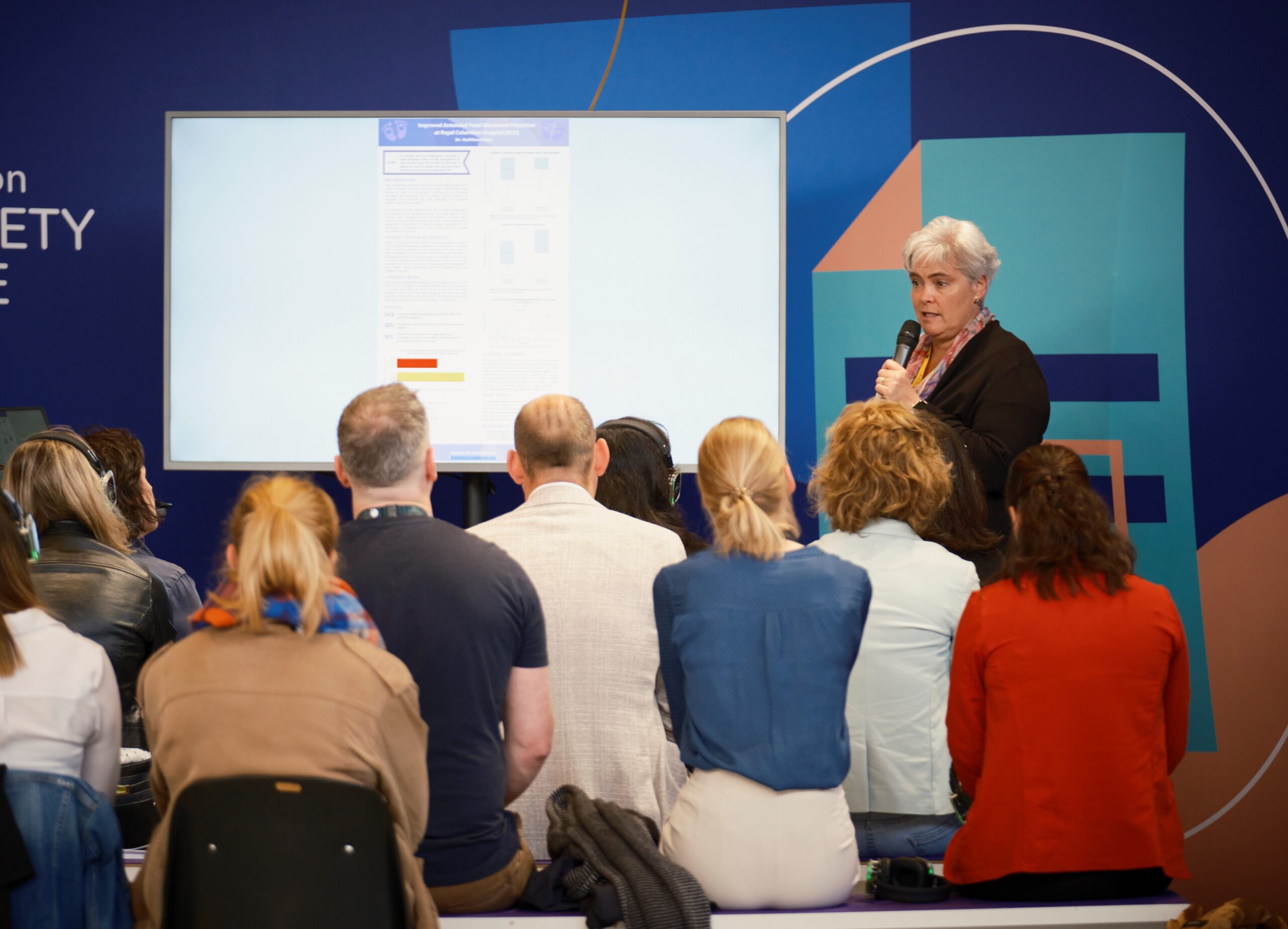 How will posters be viewed?
Traditional poster displays
Presenters attending the International Forum in person will be invited to display their poster in a traditional printed format and display it on a poster board, displayed by topic. More details, such as environmentally-conscious poster printing service options, will be provided when the poster results are sent in December 2023. Please note that this option is not available for online attendees.
ePoster displays
All presenters will also be invited to create a digital ePoster which will be made available on our online ePoster platform, accessible for all attendees before, during and after the conference.
What other activities are taking place for poster presenters?
Showcasing your poster…
Oral presentations
Poster authors will also have the opportunity to present their poster project to peers on one of our Poster Stages during a 5-minute allocated slot. These sessions will take place during breaks to ensure you don't miss out on any of the main programme. Further information, including how to sign up and present, will be sent to all registered poster authors in due course.
Scheduled poster walkarounds
Be ready to showcase your work to our attendees by standing next to your poster for one of our poster walkarounds. Further details and timings for these scheduled walkarounds will be shared in advance.  
NEW Online poster stage for online poster presenters
Opportunity to present your ePoster to peers by submitting a 5-minute recorded presentation. This presentation will be displayed on the virtual platform on either Thursday or Friday of the conference. Live Q&A chat with online attendees about your project will also be available.
Additional networking opportunities… 
Poster orientation
Join us to find out more about the posters and activities taking place on the Poster Stages, and meet other presenters.
NEW Poster presenter meet up
An opportunity to connect with other poster presenters within your submission topic before the event. Join them on site, along with our poster champion, for facilitated small group tours of selected posters and discuss with other presenters about common challenges and how to overcome them. Further information, including how to sign up and present, will be sent to all registered poster authors in due course.

You can read our Poster FAQs here.
The Poster topics
Safety
Patient safety in healthcare involves the prevention of harm through the effective mitigation of risk – and incorporating aspects of safety science including human factors. Patient safety also involves learning by investigation, reporting and change after events. We want to hear about projects that reduce the possibility of harm caused by healthcare, but also submissions from those working in harm and risk reduction in other industries. From technological safety nets to organisational culture improvement, how are we keeping each other safe as we go about the day to day work of delivering healthcare, plan new services and work across professional boundaries. We'd be keen to see submissions from risk management teams and technology providers and also investigators looking to share good practice.
People
We want to hear about your improvement projects where health and care professionals are working together with patients, carers or people with lived experience to co-produce a real difference to communities. This includes patient leaders who are creating real improvements to the experience of patient care. We are also interested in healthcare professionals co-producing with patients, as well as co-production across social care and education sectors to improve health. If you are a patient, or working in partnership with patients, to create better healthcare we want to hear from you.
Population
In this new stream, we are recognising the imperative for healthcare improvement to change to meet the needs of the whole population. We're interested in 
how we can use approaches such as large data sets to understand need and plan care for whole communities, how technology is bringing new challenges and opportunities for scaling care across populations

the application of improvement approaches work that focuses on a specific population group, health outcomes and health inequalities 

improvement across boundaries and examples of collaborations across organisations and sectors (e.g. health, social care, education) 

Change
Change is the process by which we make improvement happen. The focus will be on how we think about change and practical actions that enable change, leading to improvement such as small-scale change initiatives, how can we make change happen across a whole system? How you have applied social movement thinking or complexity principles of appreciative inquiry or implementation science or any other approach to change in health and care. Submissions will be welcomed from people who are expert practitioners in specific forms of change who would like to share their practice.
Science
This stream will showcase the best work that is applying the science of improvement with high rigour, and advancing the field of improvement science. We're particularly keen to hear from people applying good design and evaluation methods in health and care improvement. We're looking to define the approaches and methods being applied within health and care to improve quality of care, improve population health, tackle equity and enhance sustainability. We'll be working with the Editors of BMJ Quality and Safety and BMJ Open Quality to highlight the best work submitted. 
Leading
Leading for better health is becoming ever more complex and challenging, yet also ever more exciting since we have a constantly-growing base of experience on which to draw. "Leaders" can be health or care professionals, patients, community-leaders or others — we're interested in all forms. What does "leading well" look like today in a complex world with multiple needs and aims? How can leaders encourage progress at one and the same time across all dimensions where results matter: patient outcomes and experience; population health and equity; sustainability/environmental health; cost; staff experience and wellbeing? Submissions should include creative solutions and strategies which are of practical use to people working toward better health – be they community organisers, ward team leaders or executives in large systems, charities or other organisations. And submissions which are grounded in practice and real-world application, not only in theory. This stream will be developed in partnership with BMJLeader, the journal for evidence and debate in leadership across health and care.
Notifying you
All Poster submissions' results and next steps will be sent out in December 2023.
Please note that the email address that you supply on the Submitter Details page when submitting your abstracts will be the email address used to correspond the results of your submission. If you change email addresses during this time, please let us know so we can update our system.