Derek Feeley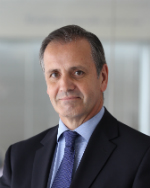 Former CEO and President, Institute for Healthcare Improvement (IHI); Scotland
Derek Feeley, CB, DBA, is a Senior Fellow at the Institute for Healthcare Improvement (IHI). He returned home to Scotland in 2020 having spent seven years with IHI, latterly as President and Chief Executive. He was responsible for driving IHI's mission and strategy to improve health and health care worldwide.
On his return to Scotland, he was appointed as the Chair of the Independent Review of Adult Social Care which reported to the Scottish Government in February 2021. He serves as Board Advisor to the East London Foundation Trust, is a Board member of the Institute for Research and Innovation in Social Services and an Honorary Professor at the University of the West of Scotland. He also coaches and mentors several senior people in NHS Organisations.
Prior to joining IHI, Derek was the Director General for Health and Social Care in the Scottish Government and the Chief executive of NHS Scotland. In that position, he was the principal advisor to the Scottish Government on all health, health care, and social care policy matters as well as having leadership responsibility for NHS Scotland's 140,000 staff. In 2013, Derek was made a Companion of the Order of the Bath by Her Majesty the Queen.