Travel to the ICC
The ICC is situated in the heart of Darling Harbour and is easily accessible by public transport.
Flying
Currently, 46 domestic and 43 international destinations are served to Sydney directly. Darling Harbour is only 8km from the Sydney Airport.
Take a look at the Sydney Airport website to plan your trip.
Rail
Sydney Trains operates a train from Sydney Airport (SYD) to the International Convention Centre Sydney every 5 minutes.
The Sydney Light Rail travels right through a number of Darling Harbour stations including ICC Sydney's stops, Convention Centre and Exhibition Centre. The Light Rail starts at Central Station in the CBD and travels to Dulwich Hill in the inner west.
Bus
ICC Sydney has its own bus stop. Bus routes 389 and 501 stop at Harris Street near Allen Street – a 10-minute walk from ICC Sydney.
Ferry
Cruise into Darling Harbour on a ferry with direct services from Circular Quay, King Street Wharf or Pyrmont Bay Wharf. Take a look at the ferry services to plan your trip.
City Attractions
Make the most out of your trip and explore some of the classic tourist attractions below.
A spectacular walk and incredible coastline, this route takes in some of Sydney's most iconic beaches.
Enjoy sweeping views from the mouth of the harbour to Sydney's skyscrapers, and if you're lucky spot a whale or two.
Sydney's Royal Botanic Gardens are beautifully kept, featuring everything from succulents to herbs, as well as a tropical greenhouse. A perfect picnic spot in the heart of the city.
Art Gallery of New South Wales
Entry to Sydney's premier art institution is free. Wednesday nights are recommended, with bonus free talks and films.
The second oldest national park in the world, the Royal is home to over 100km of walking tracks through littoral rainforest gullies, overdramatic windswept cliffs and down to pristine beaches.
Food and Drink
Cohibar
A vibrant cocktail bar with snacks, DJs and a harbour-facing terrace, only a 6 minute walk away from the ICC.
Waterfront Grill
Relaxed bistro with barstools, serving steaks, seafood and steins of beer, plus a gluten-free menu, only an 8 minute walk from the ICC.
Planar
A contemporary waterfront restaurant serving a wide range of food and a creative drink menu, located on the ground level of the ICC.
Olivo Harborside
Enjoy looking out over Cockle Bay and enjoying fresh and locally sourced ingredients. Olivo serves Italian food and has an extensive drink menu, only a 7 minute walk from the ICC.
Blackbird Cafe
A quaint cafe and restaurant that has both indoor and outdoor seating, overlooking the Darling Bay Marina. They serve a wide array of food and are only a 10 minute walk from the ICC.
Top tips for saving cents in Sydney
Pick up a copy of Time Out or Friday's edition of The Sydney Morning Herald to look up free shows and events
For cheap movies, search online for Event Cinemas, Palace Cinemas, Dendy or Hoyts – they all have cheap days
For cheap theatre tickets, try the terrific Griffin Theatre Company in Kings Cross, which has $20 Monday Rush tickets
Book launches and gallery openings are good ways to soak up the local culture, and there is usually complimentary wine. Try RoslynOxley9 gallery and Gleebooks
For cheap eats, pubs and clubs are definitely the go. Try the Norfolk and the Shakespeare in Surry Hills, or the North Bondi RSL for a cheap burger with a million-dollar view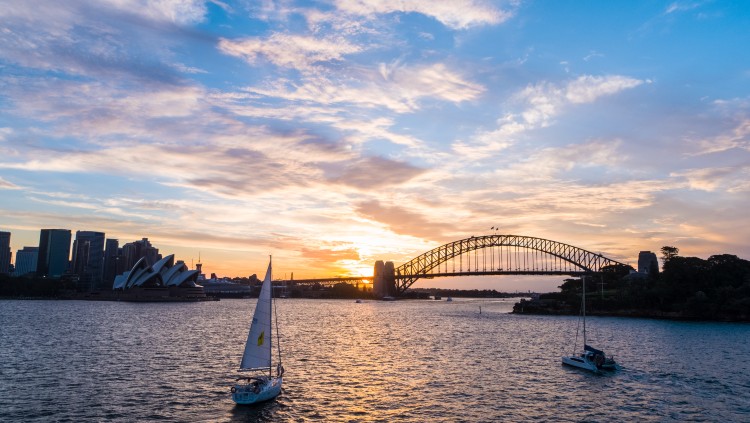 Useful Information
Weather in July
During July the daytime temperature in Sydney is around 13°C and the average minimum temperatures generally tend to hover around 8°C. High temperatures can still reach 17°C though, even in winter.
Currency
Australian dollars (AUD).
Money
ATMs are widespread. EFTPOS, Australia's electronic payment system, is also widely available in most Australian shops, restaurants and hotels, allowing you to pay for purchases with your credit/debit card.
Tipping
Hotels and restaurants do not generally add service charges to your bill, and tipping is always your choice. In some upmarket restaurants, it is typical to tip waiters 10% of your bill for good service.
Smoking
Smoking is banned in all indoor places and certain outdoor public areas throughout Sydney.
Emergency services
In the event of an unexpected emergency, call 000 for police, fire, or ambulatory services.
Electricity & conversions
You may need an adapter in order to plug your appliances into the power sockets in Australia. The adapter required for Australia is Type 1 Australia plug. The plugs in Australia have two flat metal pins, forming an inverted 'V' shape, and occasionally a third pin in the centre. The electrical current in Australia is 220-240 volts, AC 50Hz.